You are invited to The Barron Showcase, our annual gymnastics performance on Saturday, April 30th and Sunday, May 1st! The performance will showcase skills and routines, build confidence, and offer an opportunity to celebrate achievements.
REGISTRATION: Opens on Monday, February 21st for all *opening the 19th for anyone participating in Arising Stars that day*
VIP REGISTRATON: Students who register by February 27th will be entered to win VIP front row seating for 2 and a Barron swag bag to cheer on your athlete!
REGISTRATION DEADLINE: Sunday, March 20th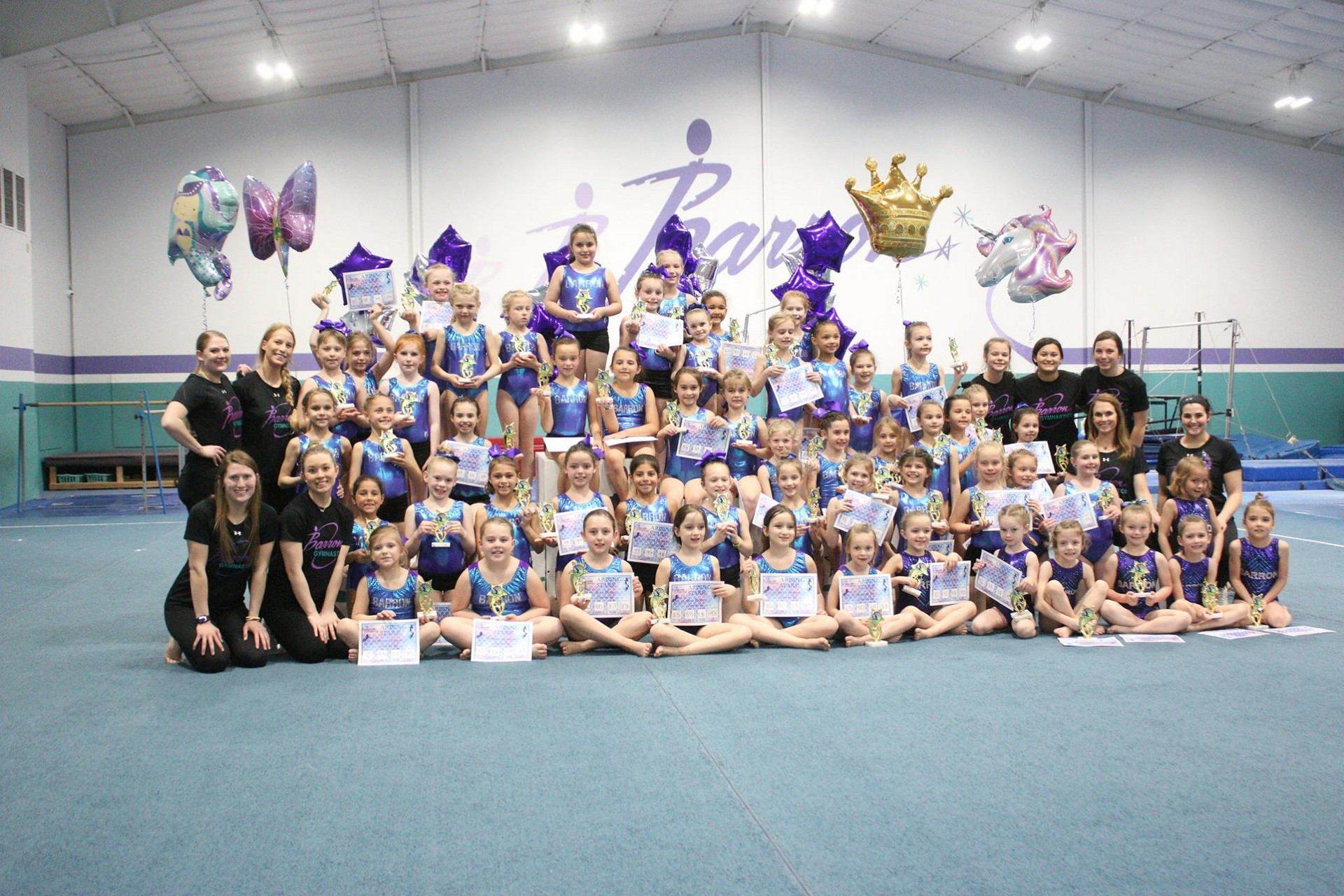 Junior Program
DATE: Saturday, April 30th
TIME: 1:15 PM, 3:15 PM, 5:15 PM
PRICE: $75 + tax
AGES: 3 years old – Kindergarten
INVITED: Little Junior, Kinder Junior, Advanced Junior, Elite Junior, Elite Junior II
• Ages 3 Years Old – Kindergarten (Girls and Boys)
• Levels Invited – Little Junior, Kinder Junior, Advanced Junior, Elite Junior, Elite Junior II
• The Barron Showcase Package includes Performance highlighting special routines on Vault, Bars, Beam, and Floor, Specially Designed Trophy, and Custom Barron Leotard (girls) or T-shirt (boys)
Little Juniors / Kinder Juniors
School Age Girls And Boys Program
DATE: Sunday, May 1st
TIME: 10:45 AM – boys & girls, 12:45 PM – girls only, 2:45 PM – girls only
PRICE: $75 + tax
AGES: 1st Grade & Older
INVITED: Beginner, Intermediate, Advanced Intermediate, Advanced
• Ages 1st Grade and Older
• Levels Invited – Beginner, Intermediate, Advanced Intermediate, Advanced
• The Barron Showcase Package includes Performance highlighting special routines on Vault, Bars, Beam, Floor, Parallel Bars, and Rings Specially Designed Trophy, and Custom Barron Leotard (girls) or T-shirt (boys)
SCHOOL AGE PROGRAM ROUTINES
Intermediate Girls Routine
Intermediate Boys Routine
Advanced Intermediate Girls Routine
Advanced Intermediate Boys Routine